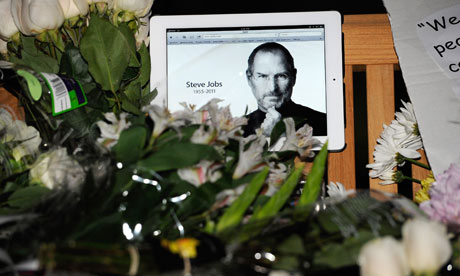 When we think of the year 2011 two decades from now, what will come to mind?
RIM's fall from grace? Social media and the Arab Spring? #Occupy? The late, great Steve Jobs?
My vote is for Apple's visionary co-founder - a modern day Thomas Edison if there ever was one. But I suspect that instead of mourning his loss, Mr. Jobs would urge us to look toward the future. Indeed, in a world full of sluggish economies, the booming tech industry could prove to be North America's key to a new century of prosperity - or at least creativity.
So, what does 2012 have in store for all things silicon? Sean Parker (of Napster and, more recently, Justin Timberlake fame)
recently told Reuters
that 2012 will be all about social media's power for political and social change. Mashable founder Pete Cashmore
predicts a slew of trends
for the coming year, the most intriguing of which include NFC - or Near Field Communication - enabled phones for credit card payments, and flexible - yes, I'm talking bendable - screens for phones and tablets. Surprisingly, at least to seldom users such as me,
saw a spike in traffic in December
. Now with more than 60 million users, according to at least one analyst, maybe 2012 will not, in fact, spell the end of this social networking experiment.  
Here at OOHLALA, we've got quite a few projects in the works that we can barely wait to unveil. While we can't say much yet, we can tell you that we're living and working by
words of wisdom
from Mr. Jobs - and Wayne Gretzky, to be exact:
"There's an old Wayne Gretzky quote that I love. 'I skate to where the puck is going to be, not where it has been.'" - Steve Jobs, 2007
Bring it on, 2012.
Photo: Guardian.co.uk